ATTENTION ALL MEMBERS:
THE NEXT AGM WILL BE HELD ON
7TH NOVEMBER 2019 AT 5PM
LOCATION: TALLAI GOLF CLUB, WORONGARY RD AND THE PANORAMA, TALLAI QLD 4213
PTSD RESURRECTED EVENTS CALENDAR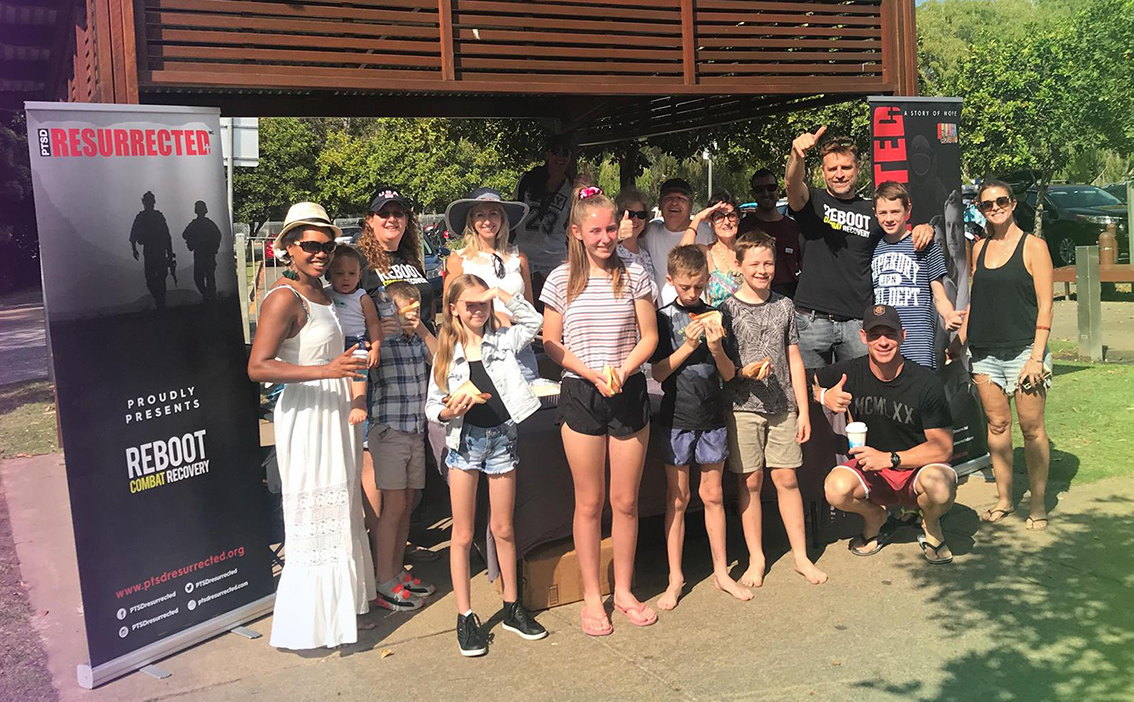 PTSD Resurrected Inc run various events throughout the year for veterans and first responders.
Come and join us for a coffee and a stroll on the beach, a breakfast or a movie night or try your hand at a game of bowls together! Our Events are open to you and your family, they are there to encourage community and to build a support network.
See our upcoming Reboot Combat Recovery course dates too.
We look forward to doing life with you.
 PTSD Resurrected Inc Proudly Presents the
 All Services Annual Charity Ball
  To honour and thank the outstanding men and women, who serve our great nation.
Thank you to all those who made the 2019 event such an incredible success. All proceeds go to supporting veterans and first responders suffering from Post Traumatic Stress Disorder and Depression.
SAVE THE DATE FOR THE NEXT BALL ON 13 JUNE 2020.
ANDY AND ZOE CULLEN SPEAKING ENGAGEMENTS
Andy and Zoe have a unique perspective and insight into living with PTSD and Depression and the impact this has on relationships. They also uncover their secret to a successful marriage through adversity and will encourage and equip you with the tools to take back control of your life and overcome mental illness.
Our goal is to break down the stigmas associated with Mental Illness by providing awareness, helping individuals and their families and provide the tools and resources needed to overcome suffering.
Resurrected gives a unique insight into the realities of war and its effects on marriage and family. Told from the perspectives of both veteran and wife the story seeks to give voice to those who often suffer in silence.
Our goal is to provide awareness, support and a message of hope aimed at helping veterans and their families and anyone suffering from mental illness.
Please contact us to enquire or book guest speaking engagements.
PUBLIC PRESENTATIONS REVIEWS
"That was the best PTDS presentation I have received." – CAPT
"The value of yesterday's talk was HIGH." – LTCOL
"This presentation was different, as I found it honest and down to earth to hear it from someone who actually had this going on in their life.  It was also good to hear it from his partner who was not towing the party line as it were." – WO2
"I'd like to say the presentation was interesting and informative for me because I don't think there's enough awareness about the "other parties" hardships in these mental wellbeing issues, ie; the women also trapped in the cycle of recovery. – MAJ
"What I wanted to know most was the steps I had taken to protect and assist my children were the right ones. Thankfully I think I've been on the right track!" – CPL
"By Zoe voicing her perspective, some of those uniformed members may have sobered to messages from their own partners that haven't 'got through'. I applaud her honesty!" – WO2
"What Andy and Zoe described in their story almost mirrors my own experiences from the darkest place of suicidal thoughts to the gradual recovery through the help of professionals and having a strong supportive family. I have great admiration for the courage the Cullens have shown in sharing their journey of hardship, helplessness and recovery to strangers." – APS
"I think the presentation has value to all military members and partners, regardless of any experience with mental illness." – CAPT
"I thought the presentation was outstanding, topical and appropriate. The Cullen's story was raw, confronting and uplifting." – MAJ
"As someone with a partner who is an emergency responder and a person suffering mental illness myself I felt almost relief to hear the experiences of others that so closely resembled my own." – APS
"…it was terrific to listen to both perspectives of military life. It was also lovely to hear that they'll together, continue to take up the fight in promoting mental illness, particularly PTSD, to get more people to talk about these issues." – APS
"I have attend presentations by (other parties) on depression and anxiety in the past but found them non engaging and not relatable to military situations. They are more about signs and symptoms and not emotions and experiences. It is the emotions and experiences that make a presentation engaging and relatable and more open to listening and believing the speakers understand your situation. I found the delivery of Andrew and Zoe's presentation very relatable." – WO2